Self-righteousness, as understood in the Bible, refers to an attitude or belief of moral superiority and personal righteousness. It is an expression of pride and a sense of being more righteous or virtuous than others. The concept of self-righteousness is not unique to the Bible, but the scriptures provide valuable insights and teachings that address this human tendency.
The Bible consistently emphasizes the importance of righteousness and living according to God's standards. However, it also warns against self-righteousness as a destructive and misguided mindset. Self-righteousness often leads to judgment, hypocrisy, and a lack of genuine love and compassion for others.
Throughout the Bible, we encounter various examples and teachings that shed light on the concept of self-righteousness. Jesus, in particular, spoke out against the self-righteous attitudes of the religious leaders of his time, challenging their outward piety while exposing their inward hypocrisy.
The scriptures highlight that true righteousness comes not from one's own efforts or adherence to religious rituals but through a genuine relationship with God and faith in Jesus Christ. The teachings of humility, mercy, and love are emphasized as key virtues that counter self-righteousness. The Bible encourages self-reflection, acknowledging our own flaws and sins before casting judgment on others.
By examining the parables, teachings, and admonitions found in the Bible, we can gain a deeper understanding of self-righteousness and the dangers it poses to our spiritual growth and relationships. It reminds us of the need for humility, grace, and a reliance on God's righteousness rather than our own. Ultimately, the Bible teaches that true righteousness comes from God and is demonstrated through a sincere love for Him and for others.
Bible Verses On Self Righteousness
Romans 3:23-24 (NIV):
"For all have sinned and fall short of the glory of God, and all are justified freely by his grace through the redemption that came by Christ Jesus."
Romans 10:3 (NIV):
"Since they did not know the righteousness of God and sought to establish their own, they did not submit to God's righteousness."
Matthew 7:1-5 (NIV):
"Do not judge, or you too will be judged. For in the same way you judge others, you will be judged, and with the measure you use, it will be measured to you. Why do you look at the speck of sawdust in your brother's eye and pay no attention to the plank in your own eye? How can you say to your brother, 'Let me take the speck out of your eye,' when all the time there is a plank in your own eye? You hypocrite, first take the plank out of your own eye, and then you will see clearly to remove the speck from your brother's eye."
Isaiah 64:6 (NIV):
"All of us have become like one who is unclean, and all our righteous acts are like filthy rags; we all shrivel up like a leaf, and like the wind, our sins sweep us away."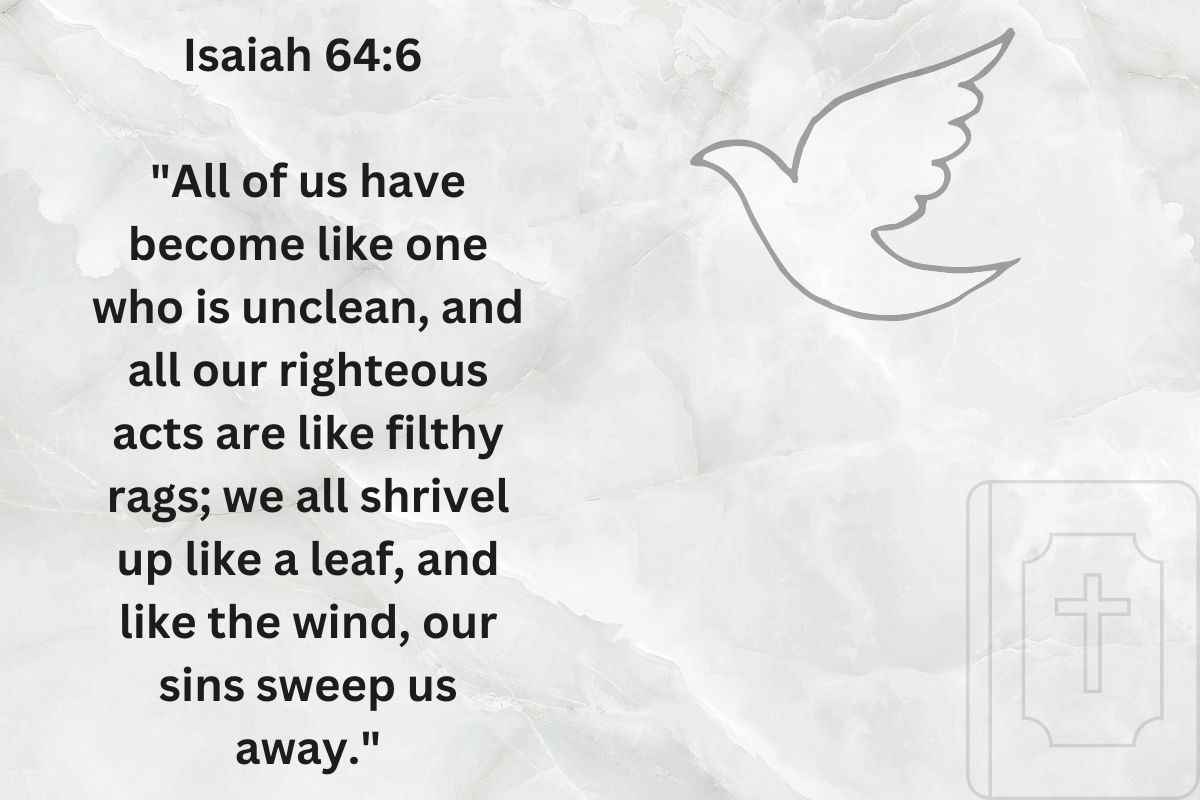 Galatians 2:16 (NIV):
"know that a person is not justified by the works of the law, but by faith in Jesus Christ. So we, too, have put our faith in Christ Jesus that we may be justified by faith in Christ and not by the works of the law because by the works of the law no one will be justified."
Bible Verses About Relationship Between Self-righteousness And Hypocrisy
Matthew 23:25-28 (NIV)
"Woe to you, teachers of the law and Pharisees, you hypocrites! You clean the outside of the cup and dish, but inside they are full of greed and self-indulgence. Blind Pharisee! First, clean the inside of the cup and dish, and then the outside also will be clean. Woe to you, teachers of the law and Pharisees, you hypocrites! You are like whitewashed tombs, which look beautiful on the outside but on the inside are full of the bones of the dead and everything unclean. In the same way, on the outside you appear to people as righteous but on the inside you are full of hypocrisy and wickedness."
Luke 12:1 (NIV)
"Be on your guard against the yeast of the Pharisees, which is hypocrisy."
Romans 2:1-3 (NIV)
"You, therefore, have no excuse, you who pass judgment on someone else, for at whatever point you judge another, you are condemning yourself because you who pass judgment do the same things. Now we know that God's judgment against those who do such things is based on truth. So when you, a mere human being, pass judgment on them and yet do the same things, do you think you will escape God's judgment?"
James 1:22 (NIV)
"Do not merely listen to the word, and so deceive yourselves. Do what it says."
James 3:10 (NIV)
"Out of the same mouth come praise and cursing. My brothers and sisters, this should not be."
1 John 1:8 (NIV)
"If we claim to be without sin, we deceive ourselves and the truth is not in us."
Bible Verses For God's Standard Of Righteousness
Romans 3:10 (NIV)
"As it is written: 'There is no one righteous, not even one.'"
Matthew 5:48 (NIV)
"Be perfect, therefore, as your heavenly Father is perfect."
1 Peter 1:15-16 (NIV)
"But just as he who called you is holy, so be holy in all you do; for it is written: 'Be holy, because I am holy.'"
Psalm 145:17 (NIV)
"The Lord is righteous in all his ways and faithful in all he does."
Isaiah 55:8-9 (NIV)
"For my thoughts are not your thoughts, neither are your ways my ways," declares the Lord. "As the heavens are higher than the earth, so are my ways higher than your ways and my thoughts than your thoughts."
Romans 10:3 (NIV)
"Since they did not know the righteousness of God and sought to establish their own, they did not submit to God's righteousness."
Micah 6:8 (NIV)
"He has shown you, O mortal, what is good. And what does the Lord require of you? To act justly and to love mercy and to walk humbly with your God."
Bible Verses About Experiencing God's Righteousness
Romans 3:21-22 (NIV)
"But now apart from the law the righteousness of God has been made known, to which the Law and the Prophets testify. This righteousness is given through faith in Jesus Christ to all who believe."
2 Corinthians 5:21 (NIV)
"God made him [Jesus] who had no sin to be sin for us, so that in him we might become the righteousness of God."
"And be found in him [Christ], not having a righteousness of my own that comes from the law, but that which is through faith in Christ—the righteousness that comes from God on the basis of faith."
Romans 1:17 (NIV)
"For in the gospel the righteousness of God is revealed—a righteousness that is by faith from first to last, just as it is written: 'The righteous will live by faith.'"
Jeremiah 23:6 (NIV)
"In his days Judah will be saved, and Israel will live in safety. This is the name by which he will be called: The Lord Our Righteous Savior."
Psalm 36:10 (NIV)
"Continue your love to those who know you, your righteousness to the upright in heart."
Isaiah 61:10 (NIV)
"I delight greatly in the Lord; my soul rejoices in my God. For he has clothed me with garments of salvation and arrayed me in a robe of his righteousness."
Bible Verses About Living In Righteousness By Faith
Romans 1:17 (NIV)
"For in the gospel the righteousness of God is revealed—a righteousness that is by faith from first to last, just as it is written: 'The righteous will live by faith.'"
Galatians 2:20 (NIV)
"I have been crucified with Christ and I no longer live, but Christ lives in me. The life I now live in the body, I live by faith in the Son of God, who loved me and gave himself for me."
2 Corinthians 5:7 (NIV)
"For we live by faith, not by sight."
Hebrews 10:38 (NIV)
"But my righteous one will live by faith. And I take no pleasure in the one who shrinks back."
Galatians 3:11 (NIV)
"Clearly no one who relies on the law is justified before God, because 'the righteous will live by faith.'"
Romans 10:10 (NIV)
"For it is with your heart that you believe and are justified, and it is with your mouth that you profess your faith and are saved."
Habakkuk 2:4 (NIV)
"See, the enemy is puffed up; his desires are not upright—but the righteous person will live by his faithfulness."